'For God so loved the world that He gave His only begotten Son,
that whoever believes in Him should not perish
but have everlasting life.'
John 3:16
---
John's Life Changed
When Jesus Came on the Scene
(In his own words)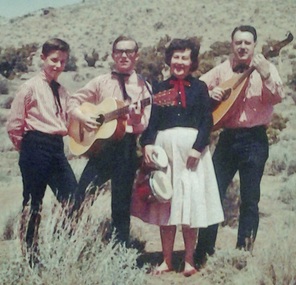 I was introduced to music at a young age in my home and family.
This photo was taken in 1964 or 1965 with me, mom, dad and my younger brother posing as our family singing group.
I was born in Sacramento, California in 1948, but grew up and lived in the Reno, Nevada area for many years. After 2 years in the U.S. Army, which included a one-year tour in Vietnam, I made a short-lived attempt at going to college, but soon found myself abandoning college to play music in the saloons and casinos in northern Nevada.
I developed a taste for alcohol that caused lots of problems in my life, including a couple of DUI's and two failed marriages. Working as a professional musician was never financially adequate for making a living, so I also drove a taxi in Reno to make ends meet.
I had always been interested in spiritual matters, but having been raised in a non-church-going home, had no knowledge of the truth of God's word, or the saving grace and power of Jesus Christ.
For many years I knew I had a serious alcohol problem. I really wanted to quit drinking, and I did quit—at least a thousand times! In my mid thirties I found myself being drawn to Christian radio, television and literature, including the Bible. I realized that the Gospel and the Bible are TRUE, and surrendered my heart and life to Jesus, and was miraculously delivered from alcohol. I began going to a little Full Gospel church where I learned more about my faith and grew in understanding. That is where I met Rebecca, a godly woman. I have been happily married to Rebecca since 1989.
Not long after being born again I surrendered all my music to Jesus Christ. Since then I play and sing only music that honors and glorifies the Lord. I want all that I play to bless and edify those who hear it.


---
---